Save Time & Money: Order Online!
We now have a convenient online store for all of your pets needs! Please note that this service is for registered clients only, and our registered clients get a 2% discount on the online store.
For quick and easy registration, click on our "Order Online" button or follow the steps below.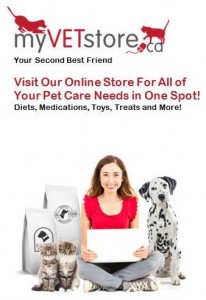 How to Create an Account With Us:

Step 1 – Visit our online store at www.myvetstore.ca/hrah and request to be registered, or as us to register you in the clinic.
Step 2 – Once you receive your welcome email complete the registration process by creating your password.
Step 3 – Login to www.myvetstore.ca/hrah using your email and password to start shopping!
Done! – Now that you have successfully completed the registration process you can begin browsing and ordering your pet's diets, medications, toys, treats and more!
With your online account you can:
Access our online ordering anywhere, anytime
Have your pet's prescriptions added by our team
Use Express Pick Up – Order ahead online and guarantee your order will be ready & waiting for you
Home Delivery – Have your order conveniently delivered to you
Create an AutoOrder – Have your order automatically reordered for you when you need it, no login needed!
Receive Refill Reminders – Never worry about running out, we will send you handy email reminders
Browse through over 3,000 products all approved by your Veterinarian
Bookmark your Favourites for eacy reordering